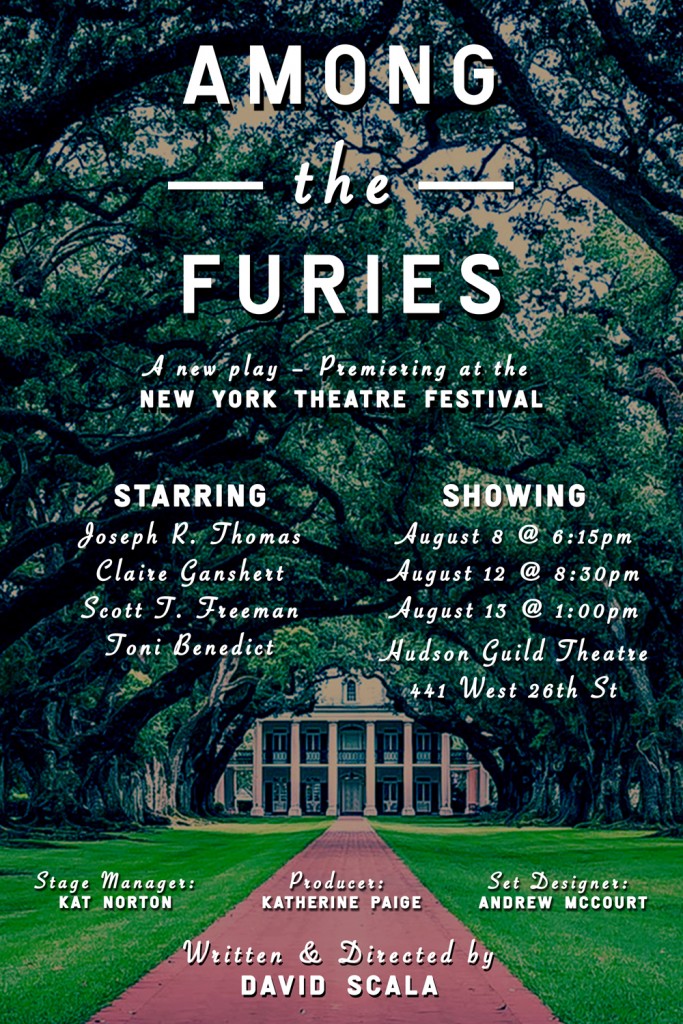 Among the Furies is a new, full-length play whose World Premiere enjoyed a sold-out, extended run as part of the New York Theater Festival in August 2017.
PRESS
⤖ "It is rare that you come across a piece in a festival that has you thinking you just discovered the next great American playwright, but you know it in an instant. David Scala's Among the Furies, premiering at the New York Summerfest, brings one of those moments." – Review in the Times Square Chronicle
⤖ Playwright & Director David Scala interviewed in Huffington Post
⤖ Press Release in BroadwayWorld
SYNOPSIS
During the night of a Southern house party, two couples from vastly different upbringings meet to discuss a prospective job opportunity. As curt formalities evolve into unexpected revelations, each couple attempts to keep their secrets in the past, as they begin realizing they may have more dangerously in common than they originally thought.
CAST
Joseph R. Thomas……………….Henry
Claire Ganshert…………Vera
Scott T. Freeman…….Aaron
Toni Benedict………………Penny
CREW
Playwright & Director: David Scala
Producer: Katherine Paige
Stage Manager: Kat M. Norton
Set Design: Andrew McCourt
Lighting & Sound Technician: Charles Davis